thailand

You can see pictures of the charming provinces of Chiang Mai, Chiang Rai, Sukhothai (north of Thailand) and the city of Bangkok. The links (situated on the left hand side of the page) give access to all pictures of Thailand.
There are 259 photos of Thailand.
News
Here is a map of Thailand in order to locate the provinces of Chiang Mai, Chiang Rai and the city of Bangkok.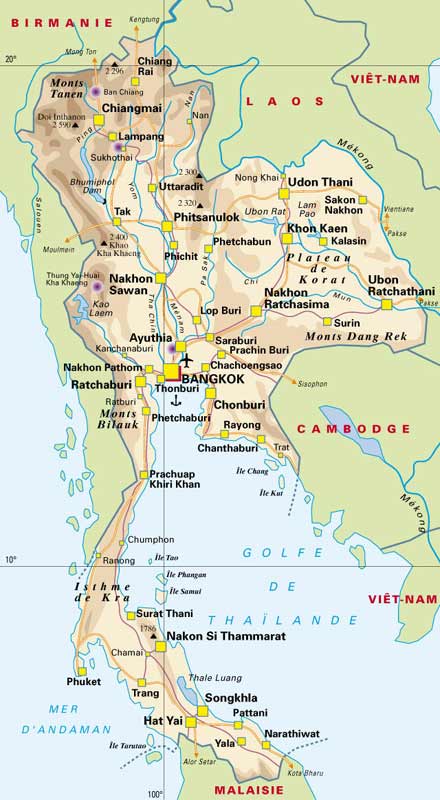 Source: http://eur.i1.yimg.com/eur.yimg.com/i/fr/enc/jpeg/cartes/tc057f0.jpeg
Some words at a glance
Chedi --> Stupa, monument which shelters a relic of the Buddha.
Chiang Mai --> Town with new city walls.
Doi --> Summit.
Jataka --> Tales of the Buddha\'s previous lives.
Lanna --> The Lanna kingdom was the former kingdom of northern Thailand.
Loi Krathong --> Festival celebrated during the full moon at the end of the rainy season (november).
Naga --> It is a mythological creature that looks like a snake and represents the bridge between the human world and the kingdom of gods.
Phra --> Monk or Bouddha's statue.
Songkran --> Thai New Year festival, mid-april.
Songthaew --> Small truck, adapted from a pick-up or a larger truck, open to the rear, and with two bench seats. It is used as a collective taxi, individual taxi or as a minibus (fixed routes).
Talat --> This is a market.
Wat --> Monk residence; temple or monastery.
Wat Jet Yod --> Seven-spire temple.
Wat Phra Kaew --> Temple of the Emerald Buddha.
Wihaan --> It is a covered building where Buddha's statues are to be found.
More information about Chiang Mai city! Click on these links:
Top